Bechtel's Ugly Ecuador Water Adventure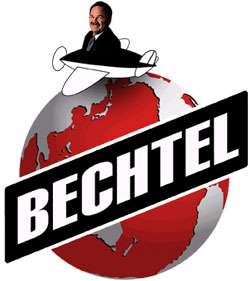 Readers:

The focus of our Latin America work at The Democracy Center has always been to help shed light on the role that international actors, particularly those from our native U.S., play in the region. That role was born with our reporting in 2000 on the
Cochabamba Water Revolt
against the Bechtel Corporation. It continued in our reporting about the effect of World Bank and International Monetary Fund policies in Bolivia, and is also an essential theme in our forthcoming book, Dignity and Defiance: Stories from Bolivia's Challenge to Globalization (University of California Press).

It is not our view that all multinational corporations are inherently evil. There are certainly examples of corporations that are decent global citizens. But in too many instances, corporations from the U.S. have shown their eagerness to trample on human and environmental rights if it helps them make an extra buck, and then to boldly lie about that when confronted with the facts. Bechtel and the
Water War
is one example. Enron and its massive Bolivian oil spill (a chapter in our book) is another.

In this post we bring you a report from Ecuador, the story of how Bechtel, the corporation behind Cochabamba's water crisis in 2000 (headed by Riley Bechtel, above), is at it again in the city of Guayaquil, Ecuador. The report comes from Emily Joiner, a long-term volunteer with the Guayaquil-based Observatorio Ciudadano de Servicios Publicos, and author of a book on the Ecuador case.

Jim Shultz
Bechtel's Ugly Ecuador Water Adventure
Before sunrise on Monday, November 7, 2005, I joined members of the Observatorio Ciudadano de Servicios Públicos as we erected a blue tent in front of the Palacio de Justicia in Guayaquil, Ecuador. Volunteers readied vote deposit boxes, paper ballots, and signature pages in anticipation of the crowds of people who pass by this centrally located building on a daily basis. The 1,550 ballots and corresponding signatures collected over the course of the day marked the start of a two-week "consulta", to gather the opinions of Guayaquil's citizens regarding the water and sewage services provided by Interagua, a local subsidiary of the U.S. Bechtel Corporation.
During those weeks in Guayaquil, I spoke personally with dozens of citizens who expressed their deep problems with the water and sewage services they received from Interagua. The local municipal government was not friendly to the "consulta" project and city police tried to remove local volunteers/activists from several polling locations. Nevertheless, more than 41,000 local citizens participated in the two-week survey, and 92% of them declared that the Bechtel subsidiary was not fulfilling its contractual obligations to Guayaquil's consumers.
Interagua's arrival in Guayaquil followed years of inadequate water and sewage services. In 1993 the municipal government began considering contracting out water and sewage services to a private company. Soon after, in 1996 and 1997, the municipality began to receive loans from the World Bank and the Inter-American Development Bank, aid that provided crucial funds for improvements, but which also required privatization to take place as soon as possible. International Water Services, a subsidiary of Bechtel, won the concession in 2000 as the only bidding company. The services were transferred to Bechtel's newly incorporated subsidiary, Interagua, in 2001.
The contract provided no recourse to Guayaquil's citizens to demand improvements projects, nor did it stipulate any minimum investments or measurable improvements in service quality.
After the 2005 citizen consulta, both Interagua and Guayaquil's government refused to acknowledge any validity to the results, deeming them unscientific and statistically insignificant. Interagua also dismissed the Observatorio's investigation conducted in June of 2005 of a Hepatitis A epidemic in a slum neighborhood on the outskirts of they city. That outbreak resulted in 85 confirmed diagnoses in children, all living within a several block radius.
Medical professionals in the neighborhood estimated that at least 150 children were affected, but the city government and Bechtel's company denied that contaminated water could have caused the outbreak. Instead, they chose to blame the lack of sanitation in residents' homes and schools for the disease, implying that the sudden and widespread incidence of the disease was caused by parents' negligence. Nevertheless, the Observatorio refused to give up the fight for clean, safe services for Guayaquil's consumers.
Over the next six months the Observatorio continued to assemble a body of documented evidence of Interagua's violations of its contractual obligations and of the constitutional rights of consumers. We conducted case studies in different parts of the city and found a myriad of problems, including: postponement of improvements projects, discontinuous service, contaminated water, deaths due to water outages, erosion due to lack of sewage services, and communities billed illegally for services they did not receive.
A detailed legal and technical analysis, conducted by the Observatorio, concluded that under Interagua's master plan, even after 30 years, a significant number of families would be left without water and sewage services. The company also had no plans to construct adequate sewage treatment facilities, which meant that the local ecosystem would be expected to absorb raw or barely treated sewage discharges for decades to come. Local residents began to ask -- Is this the best that privatization can offer?
Thanks in large part to the work of the Observatorio, Guayaquil's situation has attracted both national and international attention. Local residents are looking into legal action demanding that the company compensate the Hepatitis A patients for their medical expenses, and dozens of families have already filed significant legal actions against Bechtel's company for negligent services, illegal billing practices, and other grievances.
An independent study funded by the United Nations concluded that 6 years after privatization less than half of Guayaquil's residents have sewage services, a decrease from the percentage provided with services prior to the privatization in 2001. Hundreds of consumers have come forward to demand that water and sewage services that have been cutoff be reconnected. In short, the permissive silence that once surrounded water and sanitation services has been broken.
All of this outspoken and knowledgeable criticism of Interagua's actions has begun to produce results. In the spring of 2007, municipal health authorities threatened to close Interagua's water treatment facilities due to its violation of sanitation standards. In spring 2007 the municipal government retook overall responsibility for the provision of services. In July 2007, ECAPAG (Interagua's official regulator) fined the Bechtel subsidiary $1.5 million for breach of contractual responsibilities. In January of this year an Ecuadorian court found two company authorities guilty of contempt of court for refusing to respond adequately to accusations that they had negligently disconnected services. After being ordered to jail, one of the men fled the country.
Bechtel's local company seems ready to follow his lead. According to local reports, Interagua is negotiating with another company to sell its contract and escape from the legal repercussions of its poor service and the health and environmental damages left in its wake. As it does so, Bechtel's Ecuadorian excursion is becoming a powerful echo of the disaster it left behind in Cochabamba eight years earlier. There Bechtel's overnight increases of more than 50% led to a civic rebellion that left one teenager dead and hundreds wounded. Bechtel fled with the local company's cash reserves and hard drives.
International attention and action in response to
Bechtel's Bolivian
adventure did serious damage to its corporate reputation, and forced the corporation to drop a $50 million legal action against Bolivia in a World Bank trade court. Today it is the citizens of Guayaquil who need the attention and help of the international community, to keep up the pressure on Bechtel and assure that the company is not able to flee the scene and ignore the damages it has inflicted over the past six and a half years.
For more information on the Bechtel/Ecuador case, visit
Food and Water Watch here
. You can also write to Emily Joiner directly at emily.joiner@gmail.com.
Emily Joiner is the author of Aguita Amarilla, a book chronicling the privatization of water services in Guayaquil, long-term volunteer with the Observatorio Ciudadano de Servicios Publicos and an enthusiastic supporter of the right to water. She holds a B.A. from Williams College and currently resides in her home state of Texas.